Murals and Commissioned Visual Artworks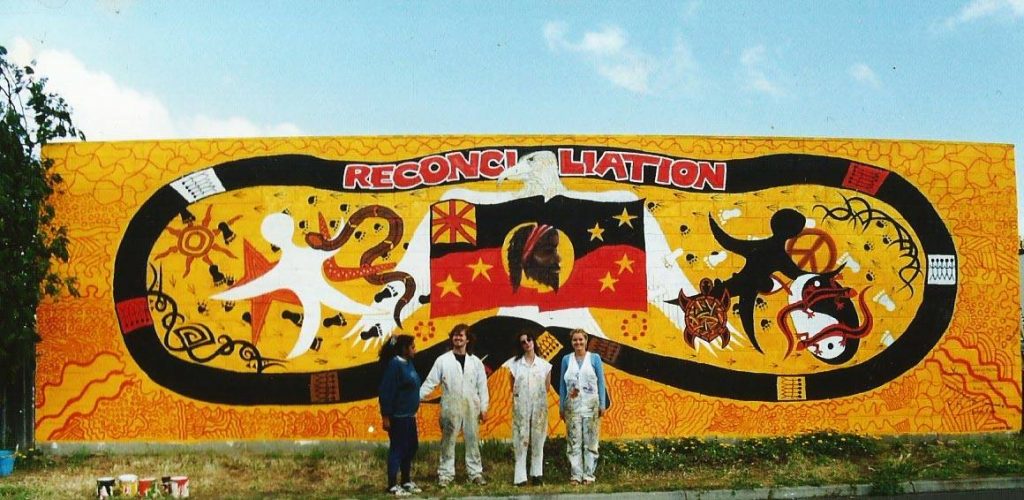 Reconciliation Mural
Commissioned by the City of Warrnambool for Youth Week highlighting Indigenous youth culture alongside other cultures. 1998
Tree of Understanding
Photos owned by Kenneth McKean and Fiona Clarke
Stage mural for special reconciliation event at Port Fairy Folk Festival with Indigenous and non-Indigenous performers singing and playing together.
Worked with local Grassmere Primary School Indigenous and non-Indigenous students to develop an eel trap path for ceremony. Later during prep of project worked with local Secondary school students Indigenous and non-Indigenous to complete other elements of the project. Truly inspiring event.
Reconciliation Celebration
Photos owned by Kenneth McKean and Fiona Clarke
Commissioned by City of Warrnambool in collaboration with artist Francis Van Der Mark to create a work that celebrates Aboriginal Culture and non-Aboriginal culture together for reconciliation week.
Included working with Indigenous and non-Indigenous community members and students
Banjo Clarke Painting for Dept of Human Services Warrnambool
Photos owned by Fiona Clarke
Collaboration with my daughter Patricia McKean, (also assisted by Kenneth McKean) to complete this portrait for a special function room named after my father Banjo Clarke, (respected and renowned Elder of the Kirrae Whurrong).
Bunjil
Photos owned by Kenneth McKean and Fiona Clarke
Mural for the Colac Community Health Centre. Very little happening for Indigenous people there so they decided to acknowledge Aboriginal culture there with a special mural.
Bunjil is flying over the land watching and protecting all the rivers and land and the people at the camps below.
Silent Butterfly
Photos owned by Kenneth McKean and Fiona Clarke
This was created for the Peters Project Cancer Centre in Warrnambool, Warrnambool Southwest Health Care. For the waiting foyer where cancer sufferers and their families wait to see specialists and doctors etc. It was an important project for me to try and help relieve the anxiety of cancer sufferers and their families through my art. In this case I used the butterfly as a symbol of hope for people suffering, a representation of a cancer sufferer whether they be male or female and a symbol of calming to help those who were anxious and representing my people who are strongly connected to Mother Earth who if the people concerned are unfortunate and lose their lives Mother Earth with the help of the butterfly will be guided to their dreamtime.
Whale Nursery
Photos owned by Fiona Clarke
Mural for South Warrnambool Kindergarten in collaboration with my daughter Patricia McKean. Warrnambool area is considered a Whale Nursery and they come to nurture their young and they stay for a few months from May. This mural celebrates the whale, mother nature and the wildlife of the land, nurturing their offspring like a kinder nurture their young pupils.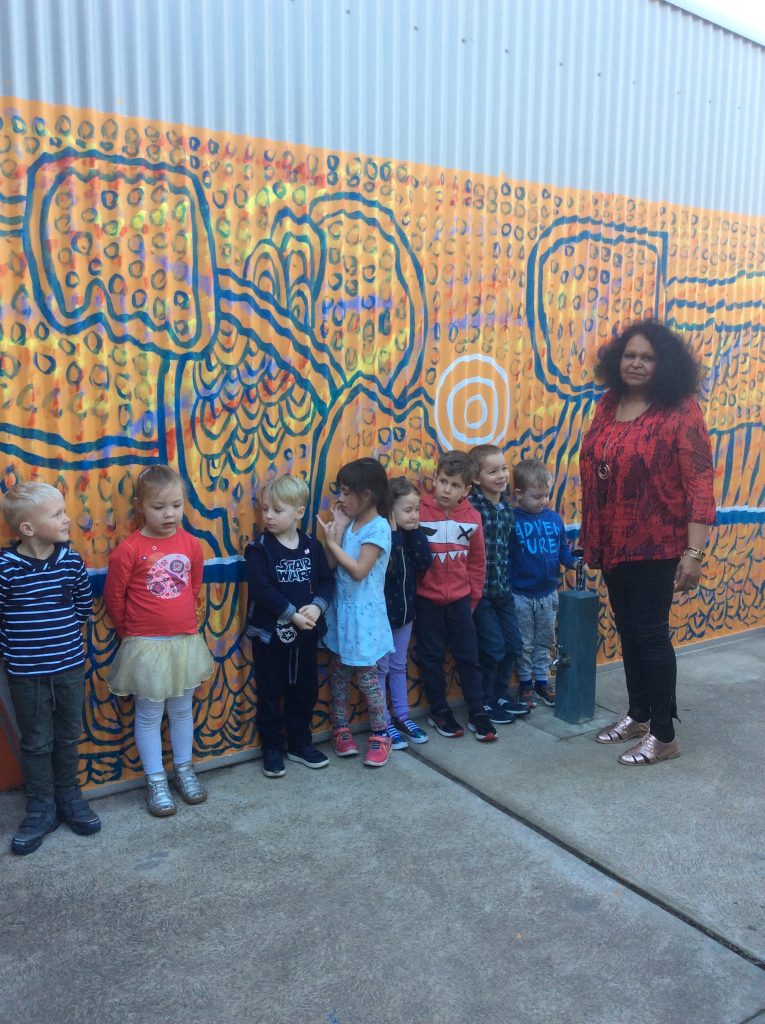 Murals of Aboriginal Acknowledgement 
The Newport Early Learning and Child Care Centre take time to teach kids about Aboriginal culture and other cultures by being proactive growing Indigenous plants, involving them in the process, exposing them to Aboriginal people and community members. This mural is part if that learning.
Sculpture and Other Art Projects
Strata
Photos owned by Kenneth McKean
Collaboration with renowned New Zealand Sculptor Chris Booth. He wanted to announce the sacredness of the earth, rocks and Mother Earth below us by using rock that is the same type as that below Melbourne which is over 400 million years old and acknowledging the First Nation people here by firstly connecting the rocks together with steel cable like an Aboriginal would connect a possum skin for a cloak with the sinews of a Kangaroos tail. Lastly to further acknowledge First Nation people by including me in the project by allowing me to create a significant design to the surface of the sculpture.
Eel Trap
Photos owned by Kenneth McKean and Fiona Clarke
This sculpture, made out of very thick steel, was commissioned by the City of Melbourne in the lead up to the 2006 Commonwealth Games. It is currently in Birrarung Marr Park.
The design is based on the idea of an Eel trap. My ancestors used to make amazingly clever rock eel traps in the rivers that guided eels in to loops where they couldn't get out.
Eel Story
Photos owned by Kenneth McKean and Fiona Clarke
This artwork was commissioned by Brophy Youth Services for their Brophy Youth Complex. I completed this in collaboration with Kate Gane a strong non-Indigenous artist woman.
It is based on the story of the eel, how it travels for thousands of mile to continue it's lifecycle travelling through the sea transforming into an almost invisible creature reaching Victoria's riverways to swim up the river, up waterfalls, to return once again to where they were born in places like Vanuatu. A great story of survival and strength much like my people.
We worked on this through drawing to scale then finally our artwork was sandblasted into the concrete showing a unique artwork and story.
Koontapool, (Whale) Dreaming
Photos owned by Kenneth McKean and Fiona Clarke
Commissioned by the City of Warrnambool this project was a collaboration between myself and Kate Gane, with a lot of assistance from my husband Kenneth McKean. It is a tribute to the sacred whale, particularly the mother whale who nurtures her newborn calves in local waters along the Western Victorian coast. Whales were very important to Aboriginal tribes in the district and deeply respected. Whales would sometimes beach themselves on the shores which for Aboriginal people meant sustenance for them. They would call all the surrounding tribes to gather for a feast and share the bounty of the Great Whale. This design is a skeleton of the whale and finished work approximately the same length as a Blue Whale which is around 19.5 metres long. At the head of the whale is a large round circle representing both the spout from which the whale shoots out water and also a meeting place commemorating the gathering of Aboriginal people sharing nature together and being grateful and respectful of the great whale which sustained them for months to come.
Ballarat Line Upgrade
Photos by Kenneth McKean
For this project we created designs for 5 train stations for the Regional Rail Revival and Ballarat Line Unit. The theme was based on the seven seasons of the Aboriginal Kulin Nations.
The Kulin people have a rich understanding of country and its ecology. The Kulin calendar is based on environmental events such as plant flowering, fruiting, and animal behaviour, as well as celestial arrangements and changing angles of the sun.
This artwork is based on the Kulin Dry Season or high Summer (November – January), and depicts the lifecycle of the Common Brown Butterfly. The larger females meet the smaller male butterflies at a central meeting circle. The female lays her eggs on the long grass with the caterpillars feeding on the grass before forming a cocoon, later emerging as a butterfly to continue the cycle.
Rockbank Train Station
Photos by Kenneth McKean and rail projects Victoria
Cycle of the Common Brown butterfly
The story gives hope to Aboriginal people because of the transformation of the caterpillar to the beautiful butterfly, a miracle of life. They were also a creature, (along with other natural elements) which helped to know when the seasons were changing as their cycle covers all of the seven seasons.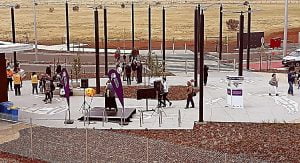 Cobblebank Train Station
This artwork is based on the Kulin Season of the Eels or late Summer (Feb – March) and depicts the eels' migration from freshwater waterways to warmer ocean areas to spawn. Two large eel traps and a central meeting place indicate eels as an important communal food source. The second smaller circle represents the water currents which the eels use to migrate vast distances during their lifecycles.
All Cultures Mural Board
Emanuel College
Photos by Kenneth McKean and Fiona Clarke
Artist in Residence at Warrnambool Emanuel College, (with Kenneth McKean) to work with secondary school students to develop a board representing the diversity of culture at the school.
Tapestry Workshop 
Photos by Kenneth McKean and Fiona Clarke
Talking Tucker was invited to work as an Artist in Residence at the Australian Tapestry Workshop, (Park Street, South Melbourne in 2002 to 2003.
I was fortunate to be the first ever Aboriginal tapestry weaver, (actually I think the first Aboriginal tapestry weaver at the time), working there creating my own artwork. I worked in there for 12 months travelling back and forth from Warrnambool about once a week gradually completing my tapestry. I also assisted with a few other significant tapestries while there.
This artwork talks about my people's way of hunting and looking for tuckers such as nets, eel traps, waddies. It comes from my Dad who always took me fishing and showed me ways of catching them.