Allrounder Ashleigh Gardner has labelled the Aboriginal-inspired uniform that Australia will wear against England next year as "a significant moment" for Indigenous cricketers.
Cricket Australia has worked with apparel partner ASICS and Aboriginal artists Aunty Fiona Clarke and Courtney Hagen to produce the new-look uniform, which the Australian women's team will wear in their T20 match against England in Canberra on February 1.
While Australia's national teams in other sports have worn Indigenous-themed strips in the past, this is a first for either of the senior national cricket teams.
It comes a year after men's and women's Indigenous teams embarked on a historic tour of the UK, retracing the steps of a group of Aboriginal cricketers 150 years earlier, who became the first Australian team in any sport to play abroad.
"I'm very proud of my Aboriginal heritage and to be able to represent my country and culture in this way is a significant moment for me the women's team," said Gardner, who last month became just the third Indigenous Australian to play Test cricket.
"As part of the touring party that celebrated the 150th anniversary of the 1868 Aboriginal team to tour England, I realise how powerful valuing culture through symbols like uniforms can be about telling stories and raising awareness.
"My hope is that this match and these uniforms play a part in starting conversations, promoting awareness and encouraging us all to learn more."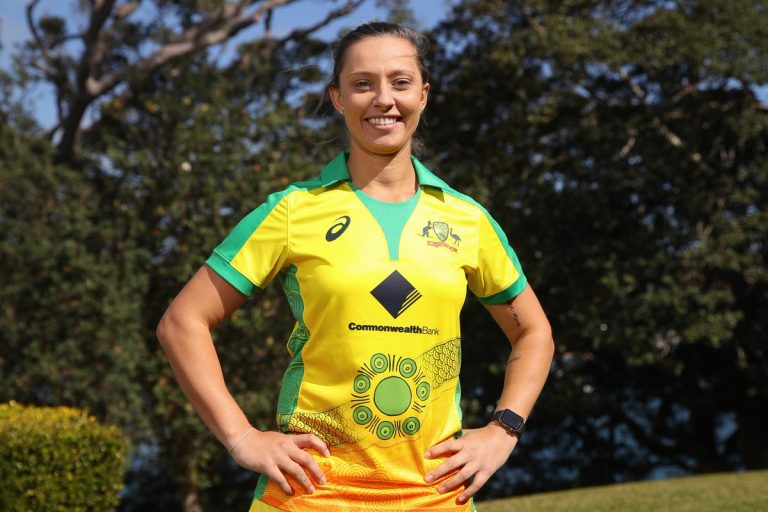 The uniform features the Walkabout Wickets artwork by Clarke, the great-great granddaughter of Jimmy 'Mosquito' Couzens, who was part of that landmark 1868 tour of the UK.
Walkabout Wickets was the centrepiece of the uniforms worn by the Indigenous XIs last year and also features on the collar of the men's and women's Test teams during the Ashes this winter.
Hagen, who is also CA's Indigenous Engagement Specialist, says Walkabout Wickets is a tribute to those pioneering cricketers of 150 years ago and acknowledges the long relationship Australia's First Nations peoples have had with cricket.
"The Walkabout Wickets artwork … is now synonymous with providing a connection between cricket and country," Hagen said. "It is a strong demonstration of respect and an acknowledgement to Australia's First Nations peoples and connection to the 1868 Aboriginal Team who toured England."
February's match at Manuka Oval, part of a T20 tri-series involving Australia, England and India that will act as a warm-up for the T20 World Cup, will be a showpiece of Australian cricket's inaugural 'Reconciliation Round'.
Cricketers at all levels will be encouraged to celebrate and learn more about Indigenous culture during Reconciliation Round, with the men's KFC Big Bash League expected to play a major role in celebrating the link between cricket and Aboriginal and Torres Strait Islander people.
Cricket Australia is preparing to launch its second Reconciliation Action Plan, which is set to include up to 100 commitments from the organisation towards reconciliation and finding common ground with Indigenous Australians.
It's your summer of cricket. Check out what's on